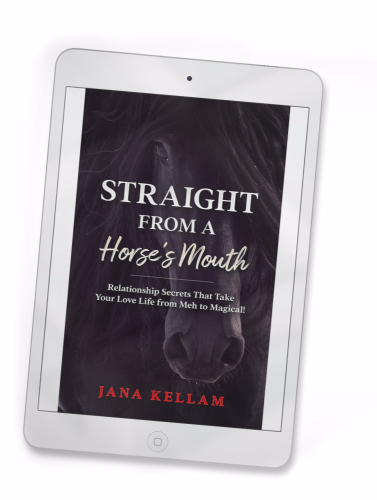 Love life wisdom from an entirely unexpected source…
You

may have heard about horses as therapy animals, but did you know they are also gifted and wise teachers?



"This is unlike any dating advice book you'll ever read. And I've read a ton! Like Make Any Man Want You, He's Just Not That Into You, Why Men Love Bitches, etc, etc. While all of them have value, and provide good insight, there's a secret underlying formula to the dating advice that's out there already that doesn't get addressed. Straight from a Horse's Mouth nails what's really happening in your dating life that you've never understood, and then it goes further, and tells you what you can actually do–right now–about it. If you could only buy one book on dating advice for the rest of your life, it should be this one."
Teri
"This book is AMAZING!!! Truly and sincerely I recommend this book to everyone whether in a relationship already or still looking for one. Jana and Jove are a partnership dynamic duo. The short but effective exercises at the end of each chapter are gold mines of awareness. I had the honor of a session with Jove and have worked with Jana over the past few years. They helped me go from meh (actually non existent) to a magical romantic relationship. This is an easy to read, fun book that respects your experiences and shows you how to get the connected, profound love you desire and deserve."
Pamela
The brain behind the pen (pixels?)
Hi! I'm Jana.
Through my work with my beloved horse, Jove, I came to understand that everything we experience in life is about relationship. Improving your love life spills over into all other areas of your life and improves them as well: your relationships with your family and friends, co-workers, classmates, and neighbors. And even the less obvious relationships, like the one you have with food and your body, your money and career, your community and government, even your own inner self and your soul.
Building the capacity to love and be loved is a most profound and noble cause, precisely because it can literally change the world.
And while it's a big goal, I hope that's just what this book will accomplish. I long to see a more loving, compassionate world where each of us feels fulfilled and inspired by our relationships.
In this first book from relationship coach, Jana Kellam, you'll learn invaluable lessons about love from an unlikely expert – Jana's horse, Jove. Jana has taken hundreds of hours of direct interactions between Jove and her clients and distilled his wisdom and lessons into this easy to read and understand, essentialized book. 
Whether you're in a relationship that has lost its luster, or can't seem to make it past a few dates, Straight From A Horse's Mouth will guide you through an experiential learning process that has helped so many humans who are lost in love to finally create the partnership of their dreams.
While the advice/guidance in this book originates from a seemingly magical and metaphysical perspective, you'll find it equally practical and actionable. Each chapter gives you an opportunity to learn new, beneficial patterns through actual experience (not just being told how to do it).
Whatever challenges hold you back from having true love–relationships that lack true intimacy, fear of betrayal, dealing with past infidelity, a string of failed relationships, or insecurity — Jove's gentle, yet firm, wisdom will guide you through the pain and confusion to a healthier, more authentic approach to relationships that empowers you to create the most fulfilling relationship of your life.