There's this funny thing that ladies do right about the middle of February each year, where they dig way deep into their imaginations and come up with all sorts of elaborately romantic Valentine's Day plans replete with chocolate, flowers, fancy dinners, wine, jewelry… you get the gist.
So much importance placed on this one day. And so often, a big fat pile of disappointment left on your plate come February 15th.
Why not try something different this year?
Something virtually guaranteed to ensure you get swept off your feet…
Sweep yourself off your feet!
If you're single, give yourself a magical evening. If you're partnered, you be the one to do the sweeping off of feet… or even just be willing to give the incredibly generous gift of telling your loved one what you want.
Crazy, right?
The thing is… you can't get what you aren't willing to give. So, instead of sitting around passively waiting for someone to read your mind – they really can't, I promise – make the romantic gesture that you want made for you.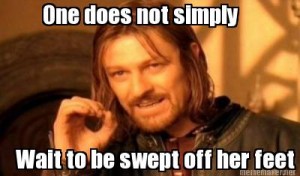 And then tell me how that goes for you tonight in the comments below…
Comments
comments